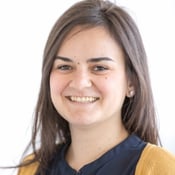 Laura is a purpose-driven marketer with over 10 years of experience in impact-first organizations across areas like education, clean energy, gender equality, data for development, cross-sector partnerships, women in leadership and more.
She started The Marketing Palette to support socially and environmentally focused organizations in using marketing for change and to advocate for the radical transformation of marketing into a more ethical, purpose-centered discipline.
Laura brings in-depth expertise in designing marketing strategies, streamlining digital processes and strengthening brand narratives for social impact. Collaboration, transparency and a strong commitment to driving social change are central to her approach.
Laura holds a Master's degree in Strategic Marketing from Maastricht University in the Netherlands. She loves yoga, cycling, board games, watching penguin documentaries, and reading on social, cultural, feminist and environmental topics.